It's been almost a month, since one of the biggest leader's death have shook the nation with despair and sadness.
J.Jayalalithaa, Amma to many, has led an extraordinary life. Born on 24th February at Melukote in Mysore, Karnataka, she had a tragic childhood. Her father Jayaram was a lawyer who died when Jayalalithaa was just 2. After her father's death, Jayalalithaa and her mother Vedavalli moved to latter's parent's house in Bangalore. Vedavalli's pretty looks, helped her to bag offers to act in Kannada films. But her father opposed her career in films, which led to veda leaving her father's house to live with her sister. She became popular as 'Sandhya'.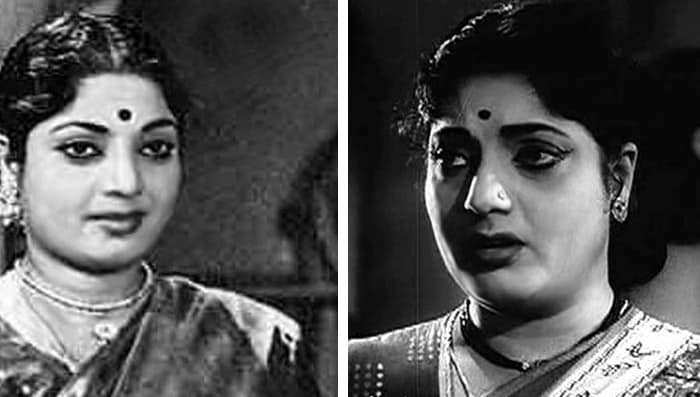 Sandhya (Vedavalli) - Jayalalitha's Mother
After her Sister's death, veda moved in with her children in Chennai where Jayalalithaa was enrolled into classical dance classes as she inherited her looks from her mother and veda was keen to make Jayalalithaa follow her path in acting. Despite Veda's wishes for her daughter to be an actress just like her, Jayalalithaa had little interest in acting. She was always an academic person who had won prices in school and even grabbed a government scholarship for college. But instead of going to college, Jayalalithaa signed her first film, as her mother was not financially comfortable.
She was a successful actress and have starred in many hit films. M. G. Ramachandran, an actor turned politician has starred in many films with Jayalalithaa.
MGR and Jayalalithaa in Raman Thediya Seethai
Later, when MGR became the chief minister of Tamil Nadu, he introduced J.Jayalalithaa to the party in 1982. She became a member of AIADMK (All India Anna Dravida Munnetra Kazhagam) which was founded by MGR. The worst hit for Jayalalithaa was in 1987, when MGR died. She was mourning for his death, even after the attempts of MGR's wife Janaki to force her to leave. Janaki took over AIADMK and became the CM for 23 days. The party was lost as Rajiv Gandhi called a state of emergency and elections were held, where AIADMK dissolved.
In 1989, Jayalalithaa reformed the party and won the elections, and became a CM for the first time in 1991. J.Jayalalithaa has always worked for the people and have considered them as her own children. She spent a lot, for the betterment of the people, especially for women. Basically, everything people owned from TV to a fridge was a gift from their beloved amma. She worked for them, and they in return gave their love and trust to her. People prayed her, she was the goddess, she was the true universal mother.
A man worshipping Amma
In 1996, she was arrested in a corruption case, for profiting from a TV scam for buying 45,000 color TV's over the MRP. In 2000, she was convicted and jailed for 30 days. In 2001, she returned as elected CM. O. Paneerselvam was the stand-in CM for Jayalalithaa after that. She returned as a CM for the third time in 2011.
Later in 2014, she was sentenced to 4 years prison with 100 crore fine, but was freed in 2015 by Karnataka High Court and regained her position as CM. She died on December 5, 2016, as a CM. She has been the third CM to die when in power, just like her mentor M.G. Ramachandran.
No doubt she had touched the lives of millions. She was bid goodbye by thousands of people at Marina Beach, Chennai, where she rest next to her mentor MGR. People cried and paid their tribute to their beloved Amma.
People mourn at Amma's death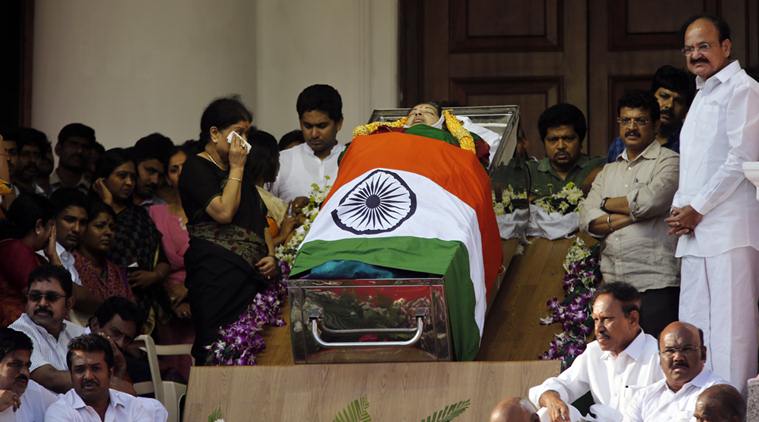 Jayalalitha's Funeral
She was a revolutionary leader, Amma to many. She will always be in the hearts of the people. May she Rest In Peace.