Are you planning a trip to hang out with your friends or loved ones in the shacks near a vast ocean whilst enjoying a peaceful discreet experience, soaking the beauty of the sunset?
Is Goa on your mind for such an experience? Then hang on, this article might change your mind.
Although Goa is a dream to have fun and enjoy the ultimate extremist life at the beach for most of the people, but if you are planning to enjoy the scenic beauty of the beach with lesser crowd and of course a budgeted trip, then Gokarna is definitely what you are looking for.

Gokarna | Source: s3.india
I have been to Goa as well as Gokarna, and trust me although Goa has its own charm with Live music, people roaming around the streets and partying crazy 24X7(mostly near New year), dancing, booze, undeniably famous fenny and loads of fun. Yet I found Gokarna way more scintillating and serene. The plus point being, Gokarna is way cheaper than Goa.
When you are in Gokarna, a definite visit would be 'Om Beach'. Om Beach is one of the best beaches in Karnataka, with numerous Kilometers of turns and twists, creating an 'Om' symbol, thus justifying its name.
Om Beach | Source: indiaviajes.visittnt
If you are planning for a water sport in Gokarna, then Om Beach can be on your top list. Activities such as water-skiing, parasailing, surfing, and banana boat rides at this place are good enough to give you an adrenaline rush.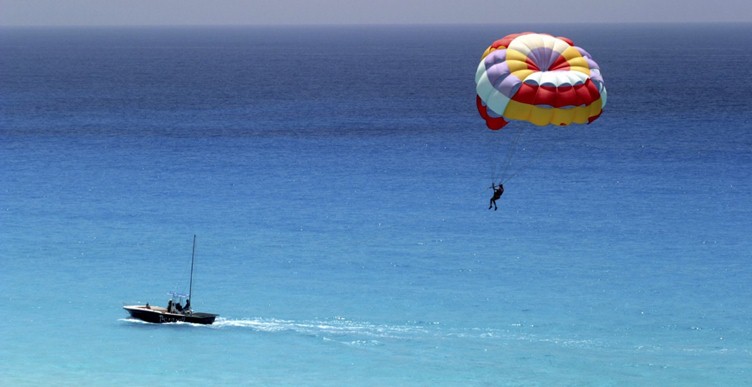 Water Sports at Om Beach | Source: blog.weekendthrill
You can find the 'Half Moon Bay', on the other side of Om Beach. This isolated lagoon, with powdery sand, will give you a peaceful getaway. It's a secluded small place and hence it maintains the beauty and serenity.
Half Moon Beach | Source: unexplored.lonelyplanet
Going further, you will find the 'Paradise Beach', which is a mix of sand and rocks. There is no direct road to Paradise beach. So the best option is to take a boat ride from Om Beach, or if you like hiking, then you can opt for hike trip to the beach.
Paradise Beach | Source: vikipandit.com
If you are planning for a religious tour to a temple, then you can visit the famous Mahaganapati Temple. It's a very small temple in the middle of the road. The rare stone statue of Lord Ganesh is said to be 1500 years old.
MahaGanapati Temple | Source: c1.staticflickr
After a trip to Mahaganapati temple, you can head to Mahabaleshwara Temple located on the shores of the Arabian Sea. It's a shrine of Lord Shiva that dates back to 14th century. The temple can be visited during Shivratri festival to enjoy the festivities.
Mahabaleshwaram Temple | Source: temples.s3.amazonaws
There is a small place within a walking distance of Mahabaleshwaram Temple. It's called 'Koti Teertha', meaning a thousand springs, and as the legend says, the lake in Koti Teertha is actually the origin of thousand springs. It's a religious place, where one bathes and perform religious activities.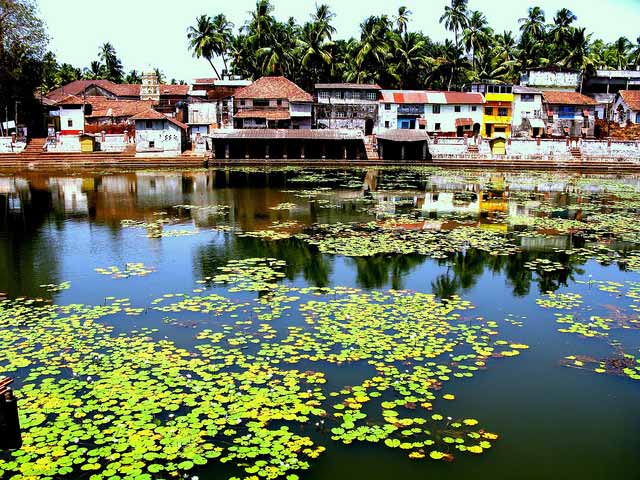 Kotitirthla Lake | Source: transindiatravels
'Kudle Beach' is another lovely white sand beach and a great tourist spot. Kilometers of white sand stretched with tall and stunning palm trees makes the place picturesque.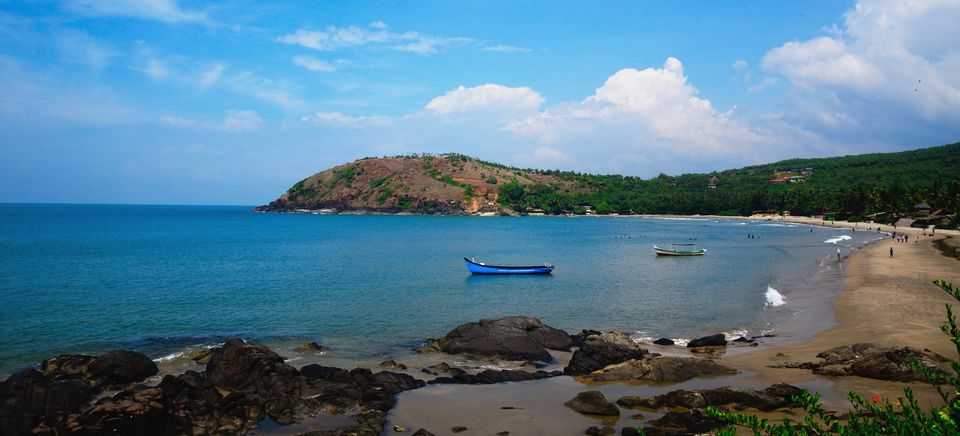 Kudle Beach | Source: tripoto
There's also Gokarna Beach, which is the main beach of the town. But it's not that clean and hence I won't be recommending it much.
When you are done wandering around the beaches and temples, you can enjoy shopping in the local markets. Shop like a hippie at the flea market and take back some memories with you.
Source: imghtlak.mmtcdn