One of the most scintillating place, Leh Ladakh is surrounded by Ladakh range

and the

Zanskar range. The scenic beauty of this place, is to die for. It's a paradise that one wouldn't want to leave.
Starting from the beautiful Pangong Tso Lake

(Yes, the one from '3 Idiots'), this Lake will capture your heart and all you would want to do is to stay there… Forever…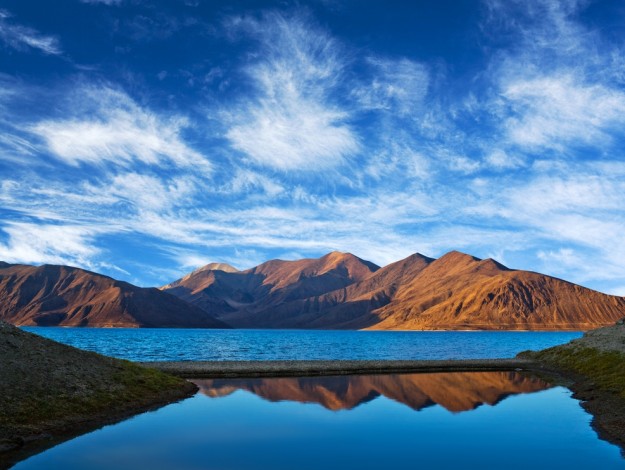 Pangong Tso Lake | Source: india.com
Convergence of Zanskar and Indu | Source: maharashtratimes.indiatimes
Leh Ladakh is a heaven for bikers, for the famous
'
Khardungla Pass'
, which is the highest civilian motor road
, and is known as the gateway to the north.
Khardungla Pass | Source: indiantourist-spots.blogspot
If you somehow got bored of the snowy feeling in the

Khardungla Pass (which is near to impossible, considering the beauty it is), then you can find a desert in 'Nubra Valley', which has the sand dunes and camel rides giving you the complete Arabic Feeling.
Nubra Valley | Source: nishattoursandtravels
Ofcourse when we talk about Ladakh, we definitely will be talking about the famous 'Magnetic Hills'.
So this is how it works, you put your vehicle in neutral mode (don't apply the brakes) and the car will slowly move up the hills. It is said that it's just an illusion, but still it's exiting to watch it.
Magnetic Hills | Source: ankurlearningsolutions
Ladakh is known for its Monastries. Spituk Gompa, being one of them, is a beautiful monastery situated at the top of a hill. The view from the place is breathtaking.
Spituk Gompa | Source: mygola.com
Trekking lovers can also try Zanskar river: The Chadar Trek in the winters, as nothing can be more exciting than a trek over a frozen river. The trek usually happens in November.
Chadar Trek | Source: wanderlust
The same river
turns into a spot for rafting
in summers . How cool is that!
You can check out some other beautifully constructed Monasteries, while you are in Ladakh like Likir Monastery, Namgyal Monastery, Hemis Monastery and Lamayuru Monastery.
Likir Monastery | Source: pagir.org
Namgyal Monastery | Source: media-cdn.tripadvisor
Hemis Monastery | Source: holidayiq
Lamayuru Monastery | Source: wikimedia
Lastly, the best thing to look out while in Ladakh are the amazing road signs that you'll find throughout your journey.
Source: project-himalaya
So, what are you waiting for? Pack your backpacks and make Ladakh your next destination trip.